Wang Qingsong: On the Field of Hope
Tang Contemporary / Beijing
2020/7/11-8/26
Installation View of "Wang Qingsong: On the Field of Hope" at Tang Contemporary

Unlike traditional documentary photography, Wang Qingsong's highly stylized photographic works combine painting, stage, film, and other languages, adopt post-modern vernacular and staged photography approaches to present various issues and absurdities in social development with a humorous and satirical undertone.
Tang Contemporary Art Center's exhibition "On the Field of Hope" presents the artist's signature works since 1999 in its two spaces. Through the artist's unique perspective, the transformations in Chinese society over the past two decades and the collective aspirations and spiritual states of people at different times are vividly portrayed.
Ma Kelu:Time, Scenery, Light and Life
Platform / Beijing
2020/7/18-8/30
Ma Kelu:Sacrifice of the Spring
dRoom / Beijing
2020/7/26-8/30
Installation View of "Ma Kelu:Time, Scenery, Light and Life at Platform"
The current exhibitions "Time, Scenery, Light and Life" and "Sacrifice of Spring" at Platform China and its dRoom space present a rather extraordinary series of sketches and abstract works from the early years of Ma Kelu's artistic practice. The juxtaposition of these two series of works from different periods is clearly intended to emphasize the potential connection between them.
If the landscape sketches in "Time, Scenery, Light and Life" are a result of the artist's technical refinement in his early years of artistic practice, then the "Sacrifice of Spring" series are the embodiments of intense expression of individual emotions, filled with a sense of romance that is not often seen in Ma Kelu's works.
Song Ta's Painting:1999-2020
Beijing Commune / Beijing
2020/7/30 Opening
Installation View of "Song Ta's Painting:1999-2020" at Beijing Commune
Song Ta's artistic expressions always evoke words such as ridicule, humor, and spontaneity, yet the issues he focuses on often point to genuine reality. Switching freely between his different identities as an artist, a museum director, and a fashion business manager, Song Ta has always reacted to a reality uniquely and unexpectedly.
Beijing Commune will continue to exhibit Song Ta's series of works on paper. Sitting on the sofa in the gallery and gazing at the only painting in front of him, the work itself is intentionally and effectively highlighted, leading to a reflection on the increasingly ambiguous definition of "artwork."
Zhan Wang:Objects of Idea
Long March Space / Beijing
2020/7/25-10/18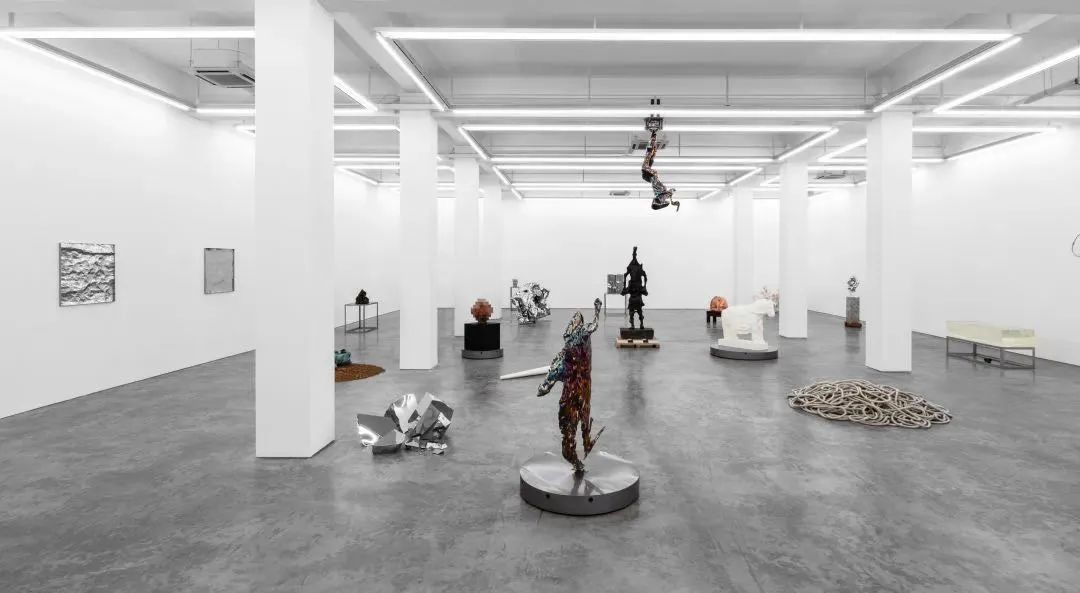 Installation View of "Zhan Wang: Objects of Idea" at Beijing Commune
Zhan Wang's latest solo exhibition at Long March Space, "Objects of Idea," consists of 22 works (groups of) created by the artist since 1990. The Chinese term is a transliteration of the English word "idea," which connects "notions" to "objects" to convey the artist's subjective interpretation of objects, which may be understood as Zhan Wang's explanation for his works of art.
The works, evenly distributed in the gallery in equal distances, are independent of each other, revealing the artist's multifaceted exploration of concepts, media, and processes. In particular, the three works "wandering" in the middle randomly linked together in a dialogue with the other works, thus suggesting the inter-relatedness in the artist's practice.